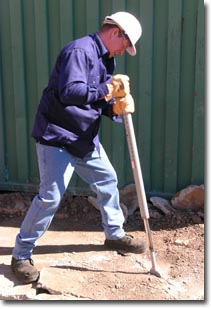 Callander Quality Hand Operated Jackhammers
Choose just one tool to make a multitude of tasks easier!
No Power Required!
The Callander Hand Operated Jackhammer is a digging, cutting, driving, chipping and compacting tool comprising manually operated impact-generating handle and interchangeable points.
Whether you're working on roads, installing signage or just need to use a crow bar or jackhammer, you can use Callander's high grade Steel jackhammer, with its selection of interchangable ends for every requirement.
You'll save effort too, because the smooth motion of the slide hammer delivers up to ten times the impact of an ordinary crow bar. Less work for you!
There are five interchangable ends available:
The Diamond Point is suitable for breaking up hard ground, digging holes and breaking up concrete.

The Narrow Chisel is ideal for breaking up concrete, bricks and stone as well as digging holes and splitting timber.






The Wide Chisel is commonly used for cutting bitumen or tree roots, and is particularly effective for pothole repairs.

The Tamper is commonly used for compacting soil around posts of for packing bitumen. Also available in a tyre bead breaker point.





The Tyre Bead Breaker is ideal for breaking the bead on all types of tyres from car to truck and tractor tyres.
The ergonomically shaped handle has a stroke of 620mm (24"), producing an impact much more efficient than a crow bar.
Upon impact the tool tends not to bounce back and maintains a constant point of contact with the object being struck, ensuring the force is applied more accurately and effectively.
All Slidehammer® ends have a patented design feature that assist the operator in maintaining the position of the tool, for delivering pinpoint strike accuracy.
Unlike a conventional jackhammer, the hand operated jackhammer can be more easily controlled when precision work is required.
All the Slidehammer® shafts are made from Australian manufactured tool steel and (accept for the tamper) hand forged by a blacksmith then hardened.
The tool is portable and versatile, making it an ideal tool for contractors, fence builders, farmers, landscapers, road repair crews, sign post installers, plumbers and drainers.
---